CMS4Schools integrates with Google Analytics to allow you to get a complete view of your website and understand how people use your site, so you can take action to improve their experience. Visit the Google Analytics Benefits page to learn more about Google Analytics.
Near the top right, either Sign in to Analytics or Create an Account.
Note: We recommend using a generic email (such as a webadmin or info email) that isn't connected to a user to be connected to your Google Analytics account to prevent issues accessing the account in the future. Your Google Analytics Admin will also be able to grant additional users permissions to read, collaborate, and edit the Google Analytics account.
Jump to Website Setup>
Create an Account

Sign in to Analytics
Select Sign In to access your google analytics account.
The Find your way around Analytics article from google is a good resource for understanding where the main reporting tools and controls are located.
The Guided Tours article help introduce all of the Google Analytics features by going through the tours of each topic in their demo account.
Set up a Property
View the Analytics Help article for complete instructions on creating a new Universal Analytics property.
Select Admin
In the ACCOUNT column, use the menu to select the account to which you want to add the property.
In the PROPERTY column, click +Create Property.
If you don't have Edit permission on the account, you won't see the +Create Property option.
(1) Property Setup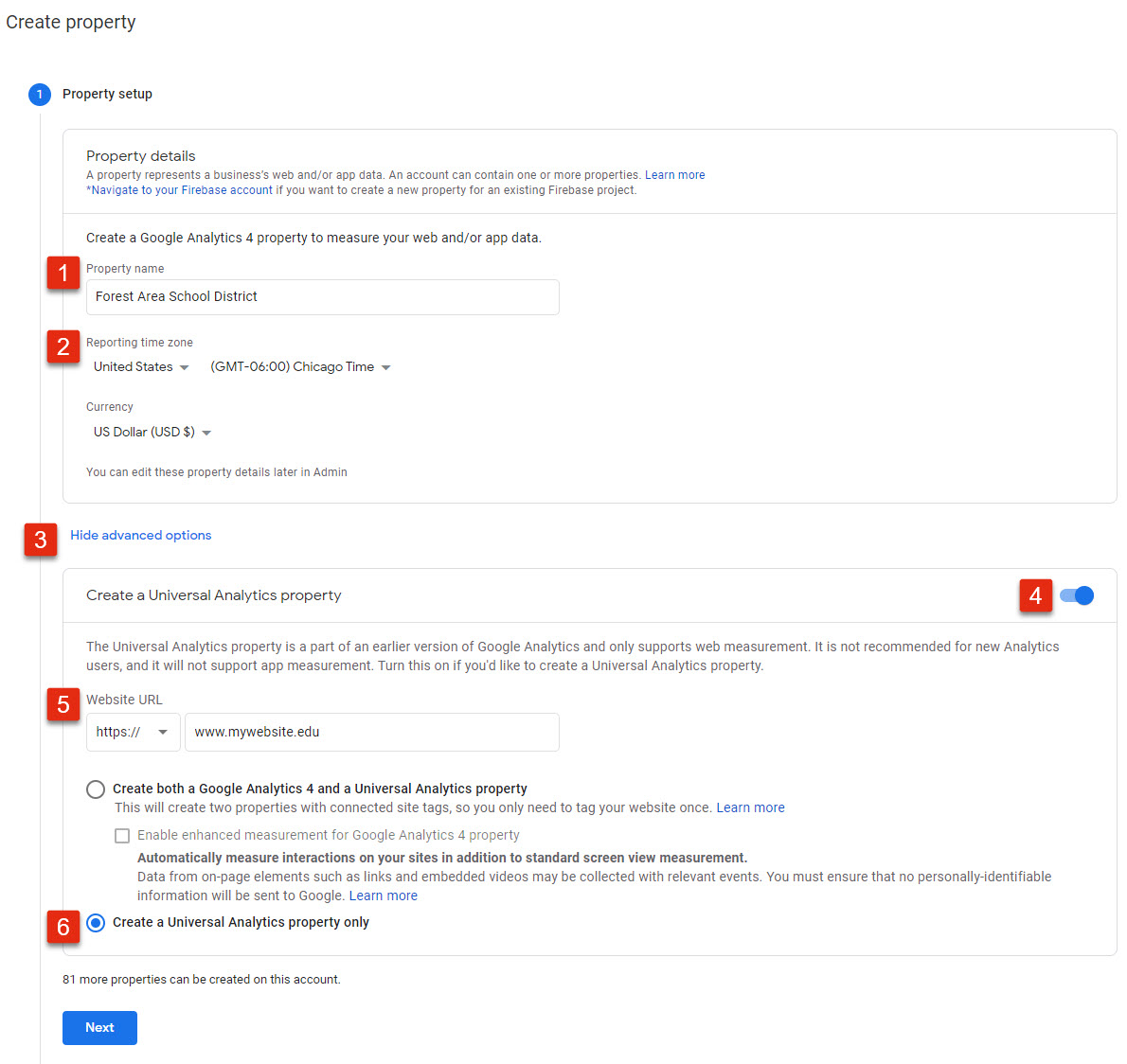 Enter a name for the property. We recommend setting this to your organization name (ex Forest Area School District).

Select the reporting time zone. Analytics uses this as the day boundary for your reports regardless of where the data originates.

Select to "Show Advanced Options".
Toggle on the option to "Create a Universal Analytics property.
Enter the website URL using HTTPS.
Enter the domain name, with no characters following the name (e.g., www.mydomain.com, not

www.mydomain.com/).
Select to Create a Universal Analytics property only
Note that CMS4Schools doesn't currently support Google Analytics 4 tracking so the Universal Analytics property should be created and added to your site.
Select Next.
(2) About Your Business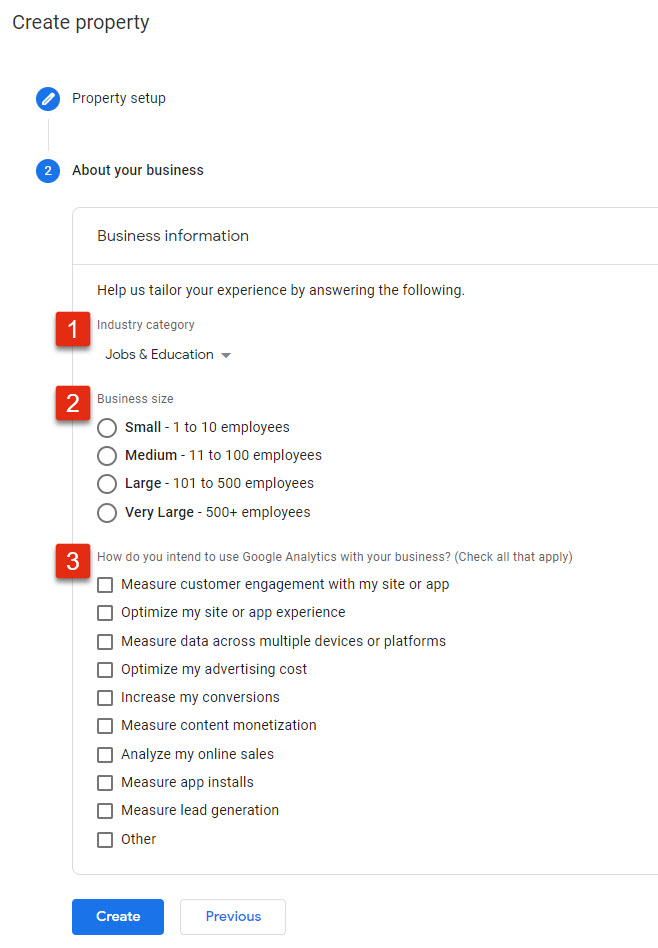 Select the industry category.

Select your business size (optional).

Select how you intend to use Google Analytics (optional).
Select Create. If prompted, accept the Analytics Terms of Service and the Data Processing Amendment and select Finish.

Note that after you've created the property, it will need to be added to your site before it will begin to collect data.
Website Setup
Provide Universal Tracking ID

On the Property Settings, you will see a Tracking ID. Copy the Tracking ID and provide the id send the ID CMS4Schools Support.
Note please copy and paste the Tracking ID information instead of providing a screenshot to ensure that the correct tracking information is entered for your site.
A CMS4Schools representative will complete the setup for your website after we've received your tracking ID (UA-#########-##). Data will then be available within Google Analytics within 24-48 hours.
Using Google Analytics
Visit the Google Analytics Academy to learn analytics with free online courses.
Here are some resources to help you get started: