The Members Module is a powerful database that allows you to keep track of contact information for individuals without accounts in your Users Database. It can be used for Alumni, School Board Members, Parents, Students, Volunteers, etc. By using the "Groups" features of the database you can have the Members Database serve multiple uses. This database includes the ability to assign each member a username and password to access secure pages on your website, and the ability to send out mass emails to all or parts of your database. This database is integrated with the Calendar of Events tool which allows you to send emails with updates on events in your calendar.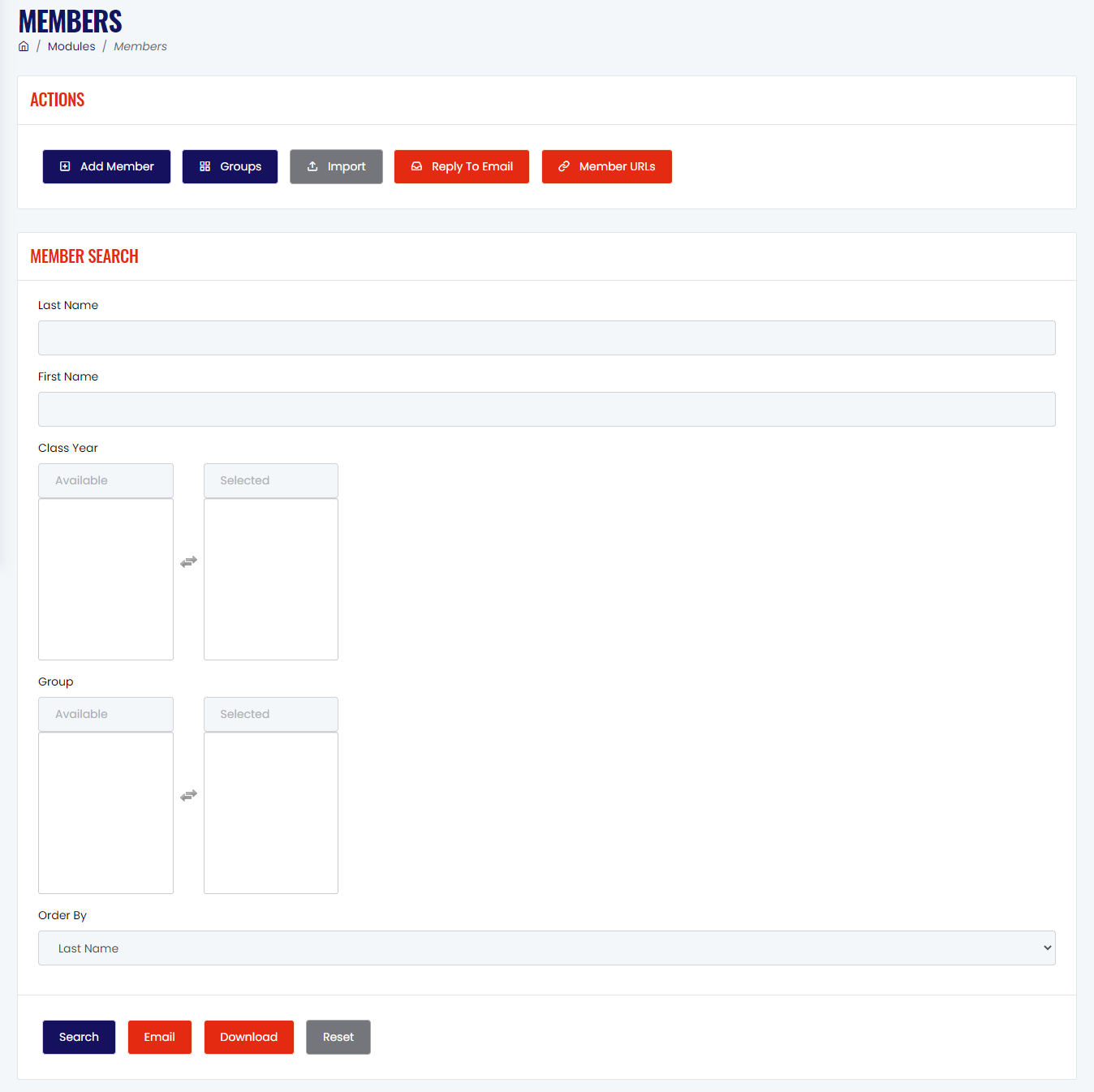 Actions
Add Member: Allows you to add members one at a time
Groups: Create groups to categorize members. Each member can belong to more than one group
Edit Administrator's Email: This is the email address that will appear in the From field of the email. The address will be prefilled with the contact email address in the CMS4Schools client database, or the address entered here. You may update this email address as needed
Import: Opens the Members Import screen where a txt file can be uploaded to mass add members and update groups. This is the fastest way to set up/edit your members.
Reply To Email: The email address entered below will be used when a new member gets added, the "Welcome" notification email to that new member will be sent from this address. For any user accounts that use the Mass Email tool within the Members Database will have the "From" and "Reply-To" fields default to this address. If no email address is entered, the Primary CMS4Schools Contact's email will be used.
Member URLs: Provides URLs to add to a page to allow members to reset their password, update their profile, and provide an alternate page to bring the users to after they have logged out
Member Search
Search: The fields indicated in the box allow you to filter your membership database by group(s), designate the number of results per page, and the order the results are shown in. Select Search to see members with the selected criteria
Email: Allows you to send a mass email to users
Download Data: allows you to download the current members in the database. This can be used as a starting point to mass update profiles or as the source to create mail merge name tags, labels, and letters
Reset: Remove any of the search options entered.