From the Voice Dial, Text & Email Settings, you can view, edit, add, or remove user accounts. Adding additional user accounts is a convenient way to provide limited access to groups/users.
Users must also have an App Dashboard Account with Admin access to have permissions to access CMS4Schools Touch+.
Access User Accounts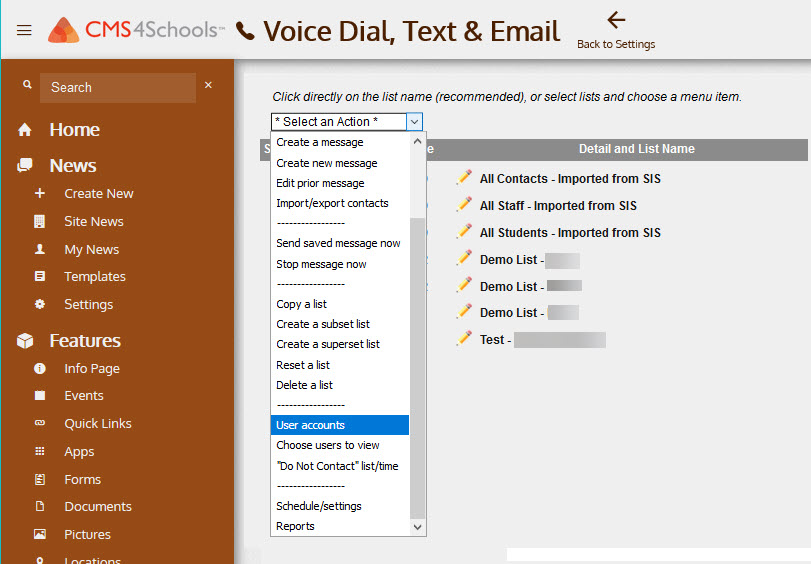 In the "Select an Action" dropdown, select "User Accounts".
User Accounts
User accounts can be created for a group with the setting applied to all members of the group, or they can be created for an individual.

Add User: add a new user or user group
Back to My Lists: Takes you back to your Touch+ lists
Edit an existing user/group
Delete a user/group
Add/Edit User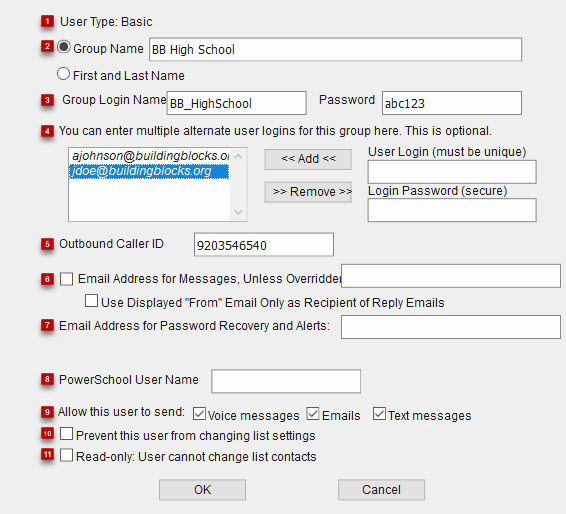 User Type: There are two types of users, Admin and Basic. The primary account is the admin account. New accounts that are added, are defined as basic accounts.
Individual vs Group Account: If you are adding a new account, first decide what the account will be used for.

If the account will be used by several people or a group of people at one location, keep the Group Name option selected and type a name for the group. These users will share one login.
Note: You can also set alternate logins for users.
If it will be used by an individual, then select the First Name option and fill in the first and last names.

Login Name: This defines the login name used by the individual or by the group when they come to the login page of the web site.


Login Password

: This is the password that is associated with the login account used at the login page of the web site.
Add alternate/individual user logins for the group: Enter the desired User Login and Login Password and then select Add. You can add multiple alternate/individual logins to each group.
Outbound Caller ID: This is an optional value and overrides the default value assigned to the admin account. The admin account might have a district outbound Caller ID but setting this value overrides that value so a school could set the Caller ID for their particular school. If no value is specified, then it uses the admin Caller ID value.
From E-mail Address: This works much like the Outbound Caller ID value but is used when sending e-mail notifications rather than phone calls. This is an optional setting.
Password Recovery Email: Set the email to be used to recover lost passwords and to receive alerts.
School Information System Username: You can enter a username associated with your SIS.
User Share Permissions: Select if users can send "Voice messages", "Emails", and/or "Text messages"
List Settings: Selec to prevent the user from changing list settings.
Read-only: Select to prevent the user from changing list contacts.
Select OK to add your user account and save changes.