With the create a superset list action, you can create one large list comprised from existing lists. This can be especially useful in the case where you may want to call several lists but in a single dial action. For example, a school may have a middle school list, a junior high list, and a high school list. Rather than dialing all three separately, once superset list can be created to include all three lists.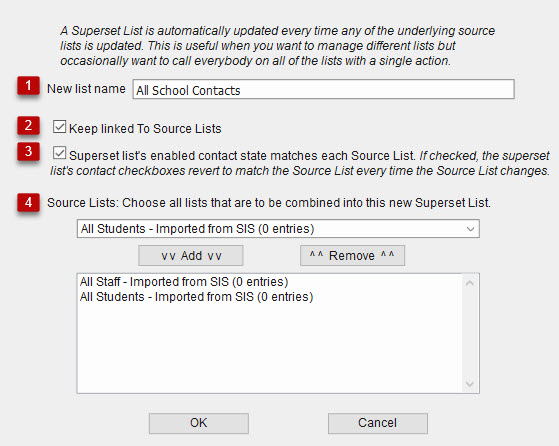 New List Name: Assigns a name to a list. It is recommended that you use a different name for each of your lists. You may want to include in the name what the list is including so it is easy to identify later. When adding a list or changing the list name, the

Voice Dial, Text & Email

Lists will be updated automatically.
Keep linked to Source Lists: By default, this option is selected. This keeps the superset list linked (synchronized) to the lists from which it was created. As the source lists update, this option automatically updates the superset with the newest information from the source lists.
Superset list's enabled contact state matches each Source List: If checked, the superset list's contact checkboxes revert to match the Source List every time the Source List changes.
Source Lists: Choose all lists that are to be combined into this new Superset List.
Source lists come from the

Voice Dial, Text & Email

Lists and can be accessed by clicking the drop-menu. Select one at a time and click the Add button. You must add at least two lists to create a superset list. As you add lists, they will appear in the bottom box.
Once you have added all the lists you want to include, click the OK button at the bottom of the screen to have the system automatically create the superset list. The new superset list will appear in the Voice Dial, Text & Email Lists.
Note: Once a superset list is created, the source lists cannot be adjusted. If adjustments need to be made to the superset list, then delete the superset list from the Voice Dial, Text & Email Lists (do not delete the source lists) and then re-create the superset list.
Note: Manual changes to the superset list will be over-written the next time the source lists update.