The Faculty List from Faculty Database tool can be used to display staff directories on your website. This tool pulls the directory information from the Users Database. When a new user is added, they can automatically be displayed in the staff directory.
When adding this tool to a page, you can display Groups of users or select specific individuals to display on the page.
View the Page Content article to learn more about adding a tool and general tool settings.
Edit Tool Properties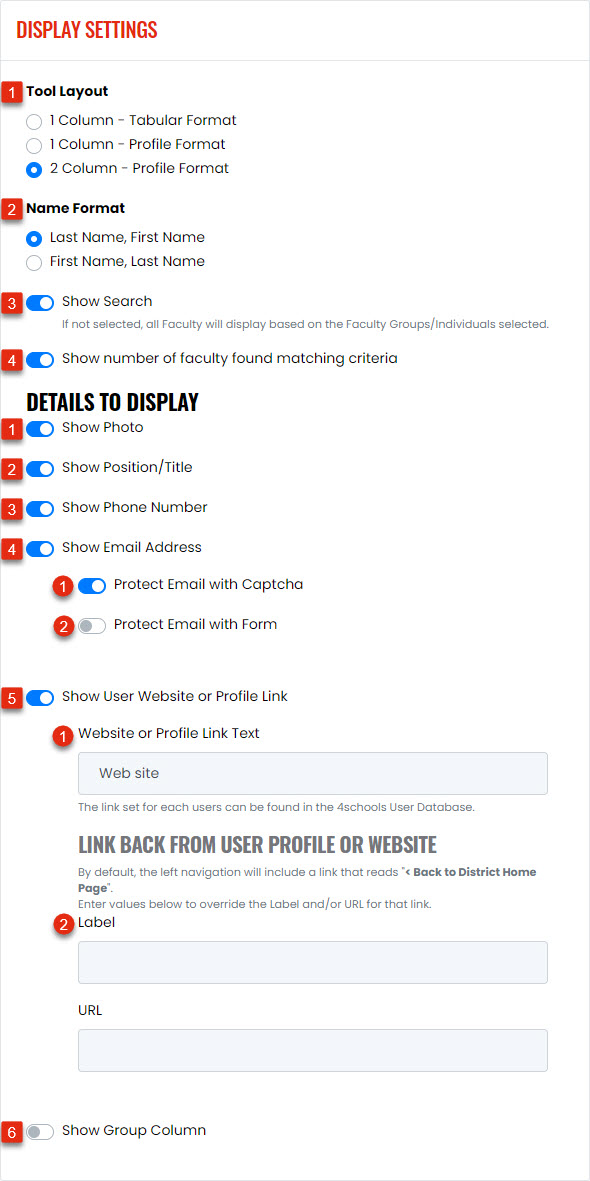 Display Settings
Tool Layout: Choose the format to display the faculty members on the page.
Name Format: Choose Last Name, First Name or First Name Last Name for faculty name display.
Show Search: If not selected, all Faculty will display based on the Faculty Groups/Individuals selected.
Number Found:

Show number of faculty found matching criteria
Details to Display
Select the details that the Faculty List should display.
Show Photo
Show Position/Title
Phone Number
Email Address

Use CAPTCHA (strongly advise the use of CAPTCHA to protect email from spammers and email harvesting if displaying email addresses)
Email Form

Show User Website or Profile Link

Website or Profile Link Text: The link set for each user can be found in the 4schools User Database.
Link Back From User Profile or Website:

By default, the left navigation will include a link that reads "

< Back to District Home Page

".

Enter values to override the Label and/or URL for that link.

Show Group Column: Choose if the Group name will display as a header for each group. If selected, members will appear in each group they belong to.
Group Settings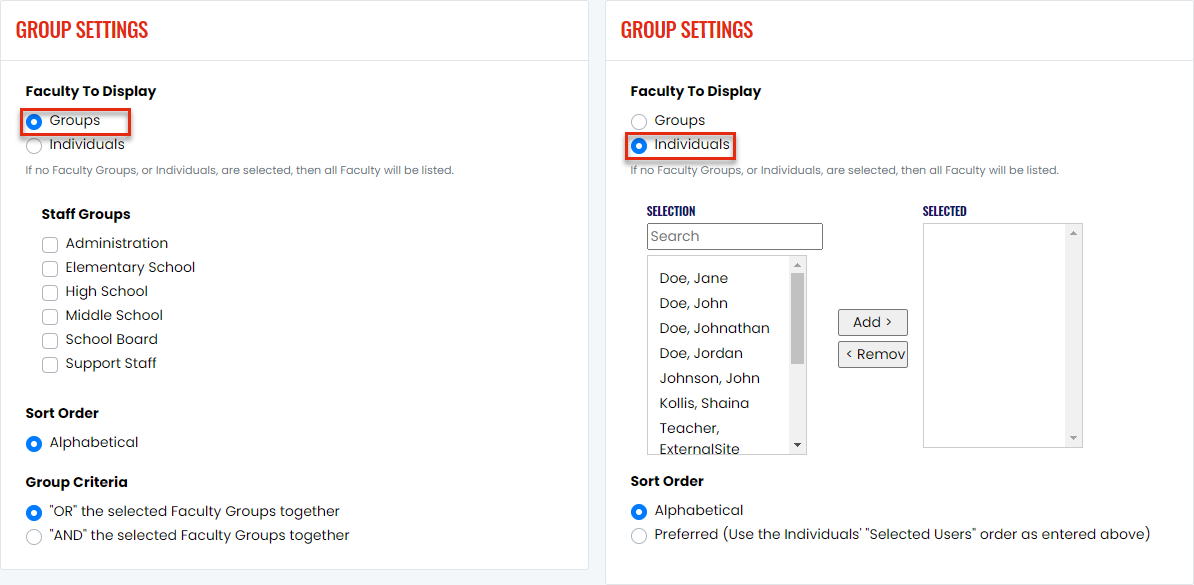 Faculty to Display
Select if you would like to display Groups of users or Individuals.
Groups
Staff Groups: Select which groups you would like to display. Note that if no faculty groups are selected, all faculty will be listed.
Sort Order: When organizing staff in groups, the staff will always display alphabetically.
Group Criteria: Select "OR" the selected Faculty Groups together or "AND" the selected Faculty Groups together
Individuals
Individuals: Add the individuals that you would like to display.
Sort Order: Individuals can be sorted alphabetically or in your preferred order. If preferred is selected, drag and drop the Selected staff to display in the order you'd like them to display on the page.
Tool Options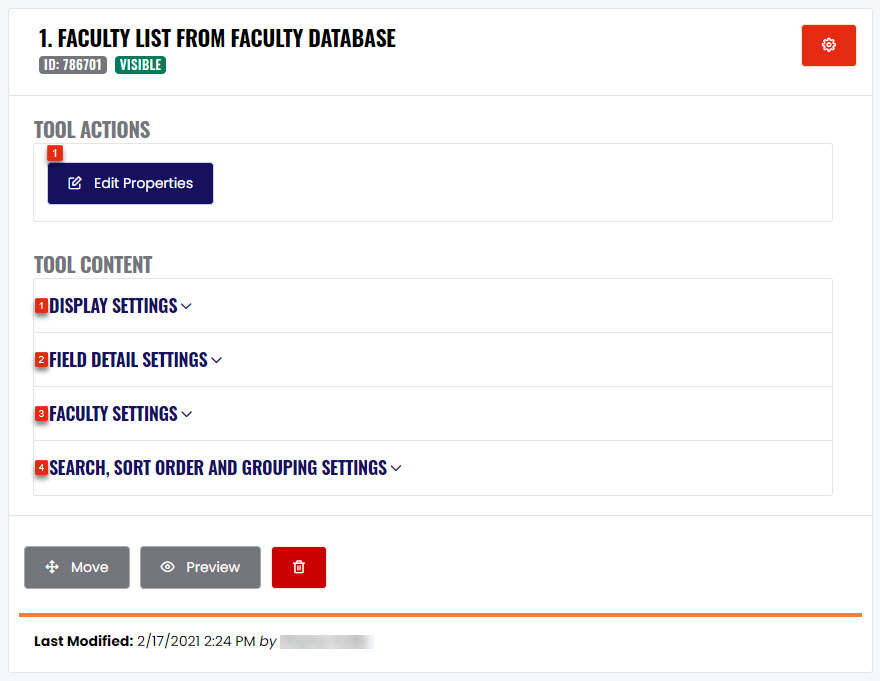 Tool Actions
Edit Properties: Edit the faculty that are displaying within the tool. See the Edit Tool Properties section above for more information.
Tool Content
Display Settings: This shows the display type and Name Display selected for the tool.
Field Detail Settings: This shows which details are selected to display (ex photo, title, link)
Faculty Settings: This shows which groups or individuals are set to display in the tool.
Search, Sort Order, and Group Settings: This shows settings for the search, number found, show group column, and sort order for the tool.