Many districts designate the Profile page as a staff member's Home Page. The profile page contains information about the staff member, for example, name, phone number, job title, a place for a short bio and photo.  This article will provide step-by-step instructions on how to access and edit your profile. 
Access Profile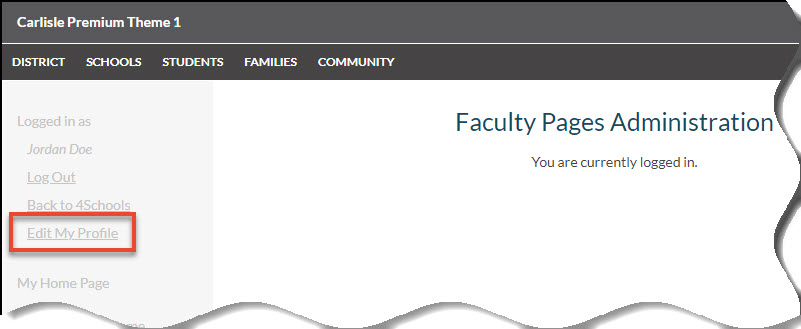 After logging into your faculty pages administration, select Edit My Profile. In the top left.
Enter Profile Information
Note: When you Web Admin first created your 4Schools user account, they may have added information (including a staff photo) that will populate your profile.
Update any of the fields as needed. Note that the image that is in your profile will also display in the Staff Directory. We recommend contacting your web admin before changing this photo to see if they update this yearly with school photos.
Receive Weekly Calendar Email: If your district utilizes the Calendar Admin and has turned on this feature, you may choose to receive weekly emails notifying you of upcoming events. This email can include events in all categories or only those selected.
Click Update to save changes to your profile.
Profile View