An Apple Developer Account is required in order to host your Branded app in the App Store by Apple. Follow these steps to walk through enrolling in the Apple Developer Program. Once you've completed this process, we will begin developing and managing your app keeping it updated and functioning properly.
Note:
Apple will only establish a
developer account in the name of the parent organization. This means most accounts will use your district's or organization's name and D-U-N-S number.
Create Your Apple ID
First, if your district/organization doesn't have an Apple ID, you will need to create an Apple ID.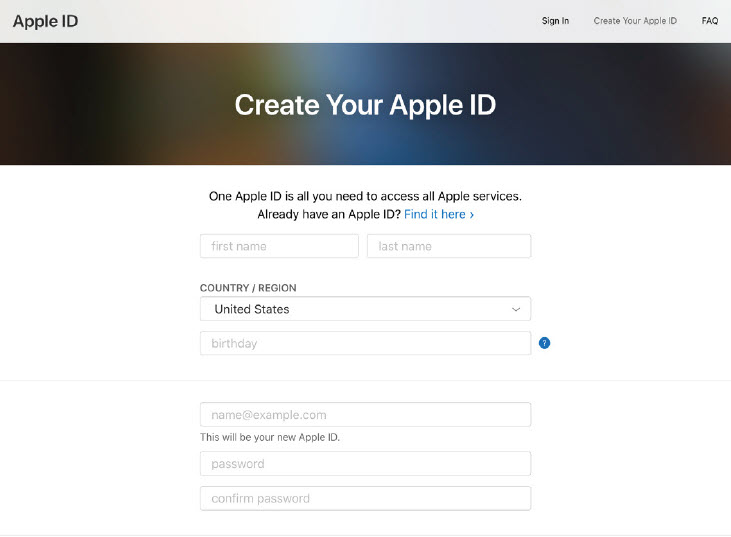 Provide information for your organization and select to create an Apple ID.

You will receive an email with a verification code. Enter the verification code to complete the creation of your Apple ID.
For added security, Apple requires Two-Factor Authentication to be enabled for your account. Follow the steps outlined by Apple support to turn on two-factor authentication on your Apple device.
Note: Two-Factor Authentication is different than Two-Step Verification. Please make sure you have enabled Two-Factor Authentication for your account.
Now that you have completed setting up your Apple ID and have turned on Two-Factor Authentication, you can now start the enrollment process for a Developer Account.
Apple Developer Account Enrollment
Once your Apple ID has been registered and confirmed, navigate to the Apple Developer Program Enrollment page to start the enrollment process. At the bottom of the page, select to "Start Your Enrollment".
Note: Please do not enroll as an "individual". We will not be able to submit your app under an Individual or an Enterprise account. You can select Nonprofit, Accredited Education Institution, Government Organization or whatever option best describes your organization.
After you complete the enrollment forms, a representative from Apple will call and/or email you to verify your enrollment information and continue the enrollment process.
Once Apple has approved your enrollment, you will need to add us as a developer to your account. This is
necessary for our team to keep your app up-to-date and functioning properly.
D-U-N-S Number
Apple requires that you provide a D-U-N-S number when you create a developer account. You may need to lookup or create yours.
There are important distinctions between using the D-U-N-S number for a school district or a business' headquarters and using a D-U-N-S number for an individual school or a business' branch. If you are using a district or headquarters D-U-N-S number, the person creating the account must have the authority to create legally binding agreements on behalf of that district or business. If a school or branch is trying to create an ADA, they must either create their own D-U-N-S number or get their parent organization to set the ADA up for them. The name of the developer account must match the name associated with your organization's D-U-N-S number.
Apple Developer Program Membership Fee Waivers
After verification, you will receive a confirmation email. This email will also include steps for you to pay for your Apple Developer Program membership. If you are an accredited institution, government entity, or non-profit organization, you may be eligible for an application fee waiver.
Once Apple has approved your enrollment, please invite our admin team as an Admin to your account. This is necessary for us to keep your app up-to-date and functioning properly.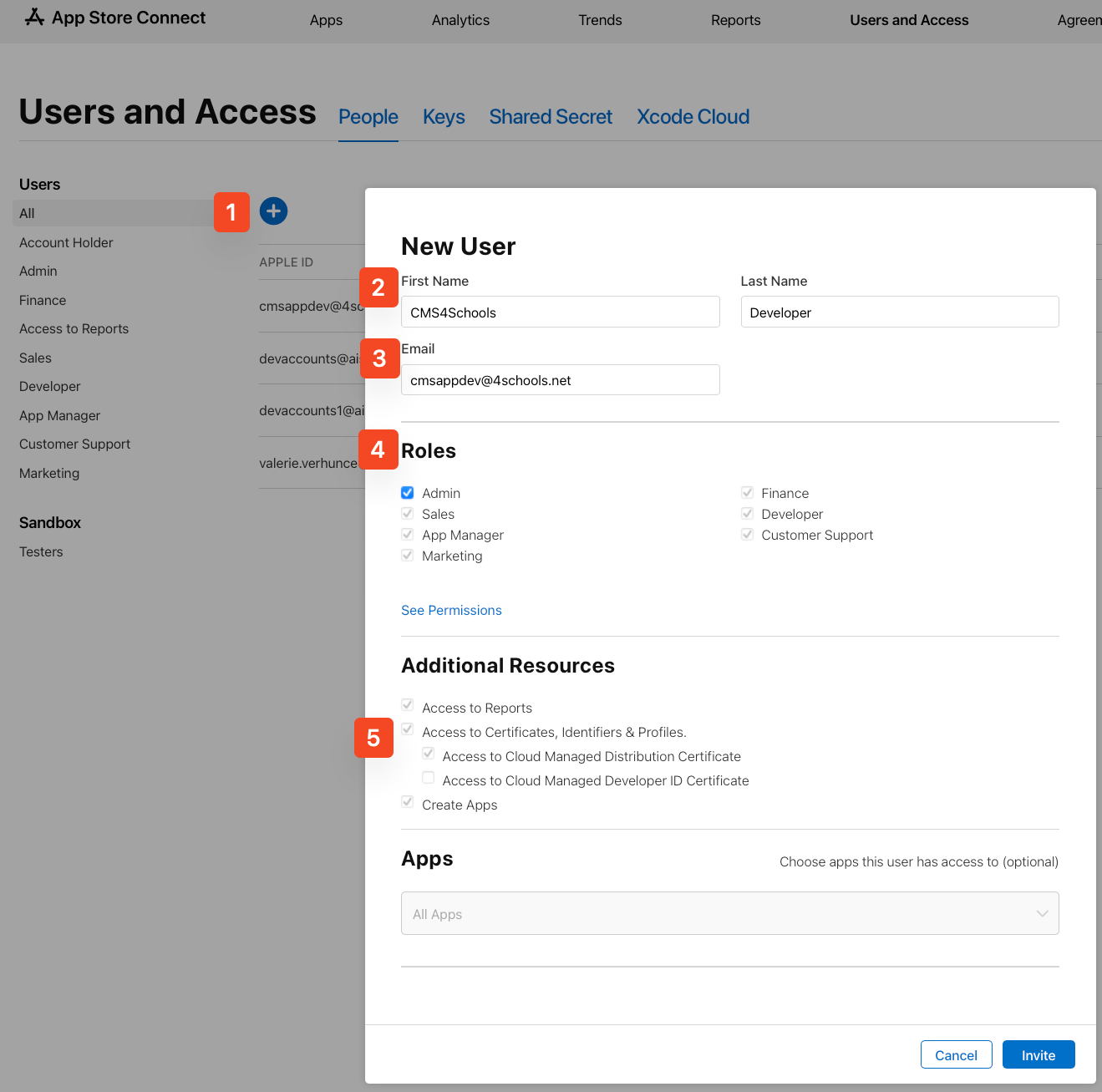 Navigate to the "Users and Access" management page for your developer account.
Click the "+" symbol next to Users.
Under the First Name and Last Name fields, fill in "CMS4Schools Developer".
Under Email, please use the email address of cmsappdev@4schools.net.
Select the "Admin" role.
Under the Developer Resources check the box for "Access to Certificates, Identifiers & Profiles".
Click Invite to send the invite. Congratulations! You have completed this process, and we will take over from here.
Please notify your project manager when you have completed this process, or if you have any questions during this process.