The Calendar of Events tool is a Main Body tool that is used to display events from the Calendar Admin. The Calendar of Events tool can be displayed in a month or list view and can be set up to display all categories or selected categories.
Calendar of Events Tool Properties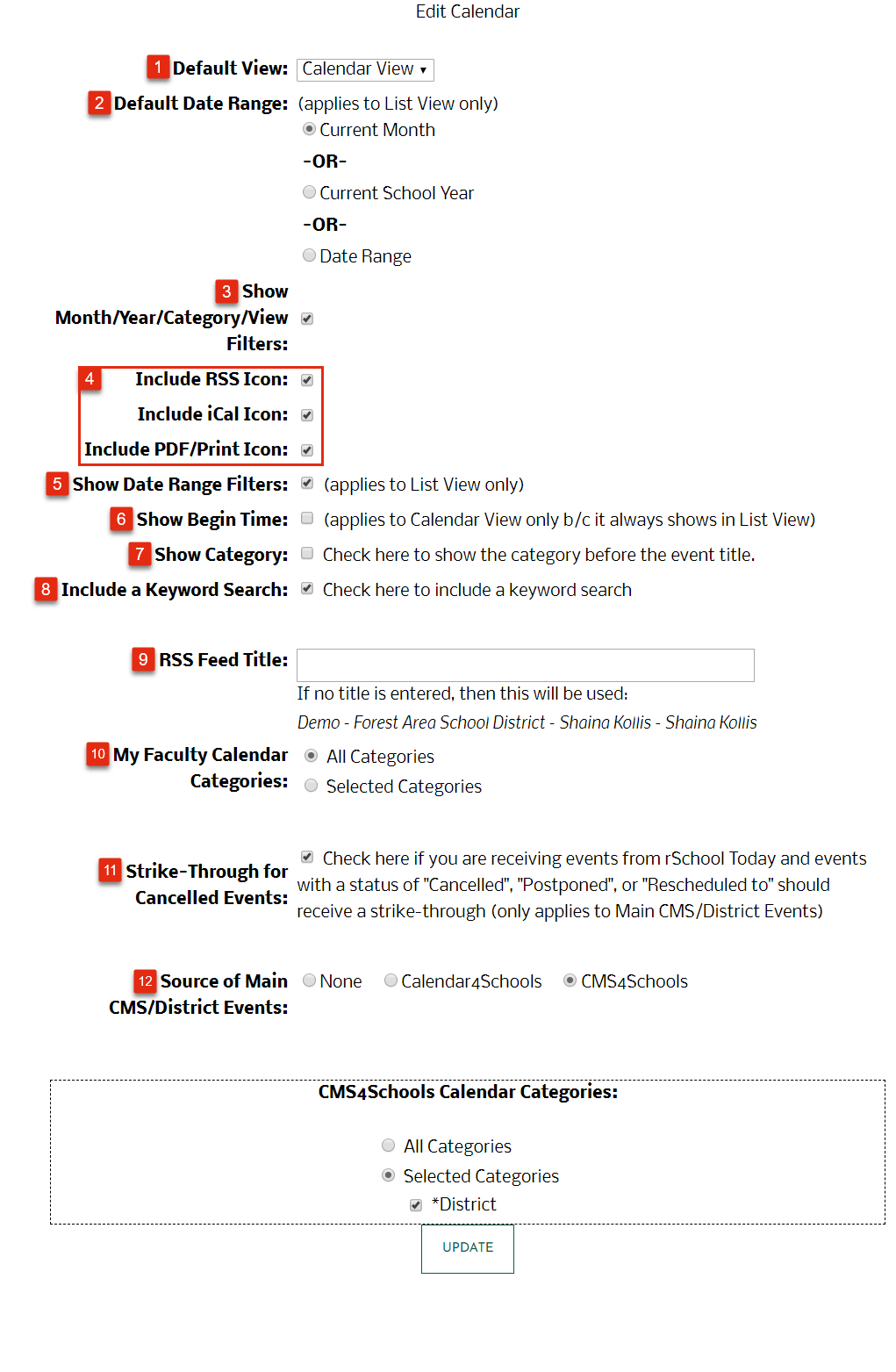 Default View

: Choose either Calendar View or List View (displays one event per row).

Default Date Range

: This will allow you to dictate how many events appear on the screen at one time. Since the Calendar view will always show exactly one month, this only applies to List View.

Show Month/Year/View Filters

:  This provides drop down boxes for the user.

Include 

RSS Icon / iCal Icon / PDF/Print icon

:  Choose any or all to display on the web page.

Show Date Range Filters

:  List View only.

Show Begin Time

:  Calendar View only as it always shows in List View.

Show Category

:  Displays the category before the event title.

Include a Keyword Search

: When selected, a search box is added above the calendar. This is useful when there are many events listed on the calendar.

RSS Feed Title

: The text users will see on their feed list.

My Faculty Calendar Categories: Check All Categories or Selected Categories and choose which categories from My Calendar Admin you want to display on this calendar of events.  You can choose any number of categories. Likewise, the same categories can be displayed on any number of pages.
Strike-Through for Cancelled Events

: Only available in conjunction with rSchools Today.

Source of Main CMS/District Events: You can choose to display events on the tool that have been entered on the main website Calendar Admin. After selecting the source, you can choose Selected Categories and choose which categories you would like to display on the calendar.
After selecting Update, the tool will be added to the page.