Upcoming Events is a Right Side calendar tool that pulls events from all or selected calendar categories into a table format on the right side bar. Its best feature is the ability to display events from today and a selected number of days into the future. Once the current date is past the events for yesterday's date are automatically removed from the tool and then another day's events added to the end of the table.
Upcoming Events Tool Properties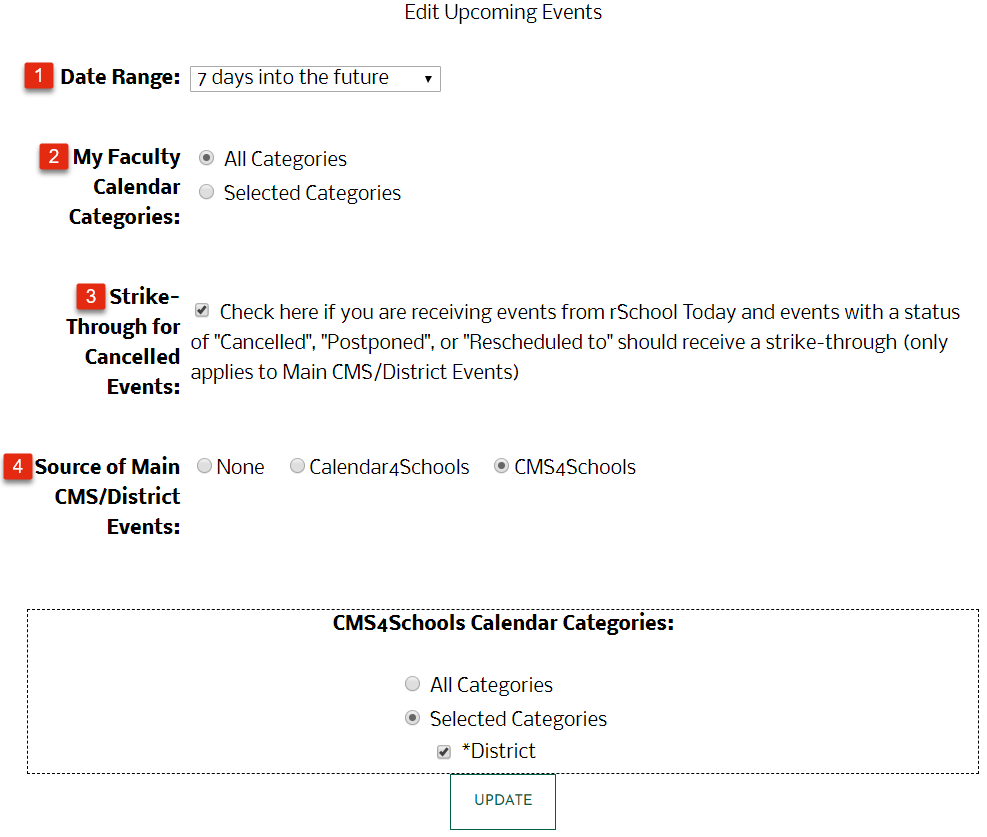 Date Range: Select the number of days to display calendar events. The drop-down list includes selections from three months in the past to one year in the future.
My Faculty Calendar Categories: Check All Categories or Selected Categories and choose which categories from My Calendar Admin you want to display on this calendar of events. You can choose any number of categories. Likewise, the same categories can be displayed on any number of pages.
Strike-Through for Cancelled Events: If you have rSchools integration, when the box is checked canceled rSchools events will display in the calendar with a strike-through format.
Category Color Block: When the yes radio button is checked, events from calendar categories that were given a custom color will have a color block in that color displayed in front of the event title.
Source of Main CMS/District Events: You can choose to display events on the tool that have been entered on the main website Calendar Admin. After selecting the source, you can choose Selected Categories and choose which categories you would like to display on the calendar.
Select the Update button to save your settings.