This article gives you an overview of using the Navigation Builder to manage pages and links and page content.
Access Navigation Builder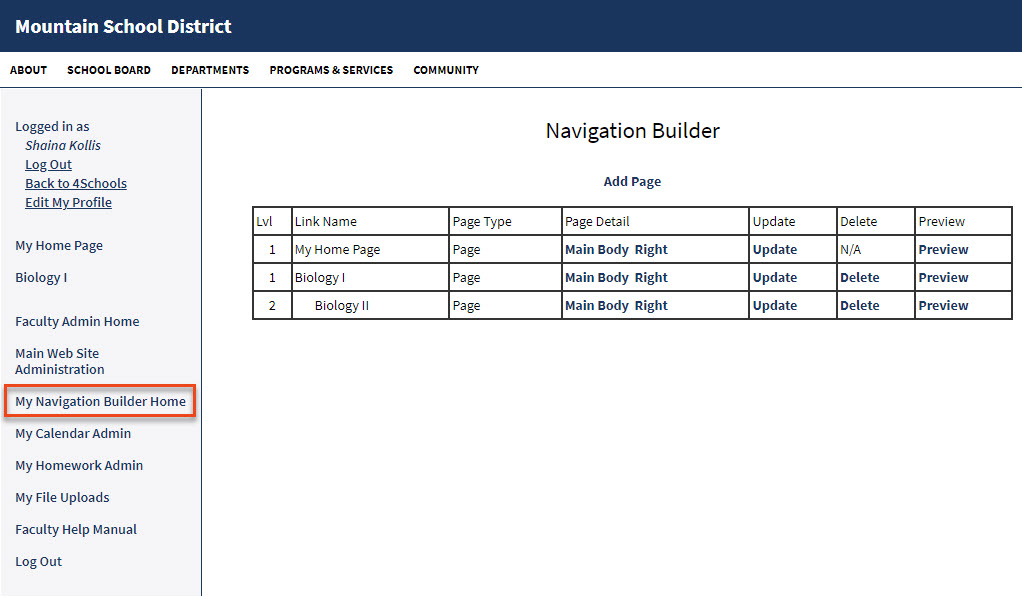 Select the My Navigation Builder in the left navigation.
Navigation Builder Properties

Add Page: Add a new Page or Link to your site's navigation. See the My Page & Link Settings article for more information about adding pages and links and the page and link settings.
Level: Displays if the page is a level 1, level 2, or level 3 page.
Link Name: Displays the link name for a page. Level 2 and level 3 pages will be indented to provide an outline view that makes it easy to visually identify level 2 and 3 pages.
Type:

Indicates if the link is an Internal Webpage (Page) or Website Link (Link).
Content:

Select the Main Body or Right link to add content to the Main Body or Right Side of a page, respectively.
Properties: This allows you to update any of the settings for the page or link.
Delete:

Delete the page. Note that you will not be able to delete a page without first removing all the content from a page. This is a safety feature to prevent accidental deletion of content.
Preview:

The preview link will open the page/link in a new tab.
My Home Page
By default, when your staff site is created, the My Home Page will be created on your site. Your website admin controls if you are able to add additional content to this page. If you aren't able to add additional content to this page, you will see N/A in the Page Detail column.
View the Edit My Profile article for information about updating the profile information that displays on My Home Page.